How Trudi Got Filled with the Spirit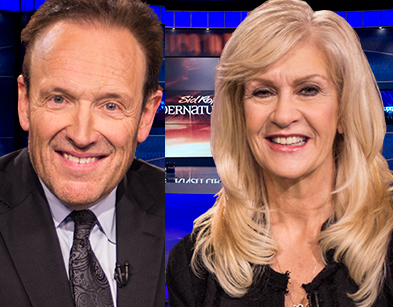 Ken & Trudi Brount definitely did not belong to a functional family. The first step to recovery for their marriage was this: Trudi got saved and filled with the Holy Spirit.  This is how it happened.
Trudi's sister & husband came over and they were radiant. They had recently been filled with the Holy Spirit. Trudi was provoked to jealousy.  She said, "I want that.  How do I get it?"
They prayed and Trudi was filled with the Holy Spirit.  To see how that happened, watch the short video below.
Trudi prays for her sleeping huband
We do not know how to pray as we should, but the Spirit Himself intercedes for us with groanings too deep for words;  And He who searches hearts knows what is the mind of the Spirit, because the Spirit intercedes for the saints according to the will of God.  Romans 8:26-27
Desperate  to save her dysfunctional marriage, Trudi would lay hands on and pray in tongues for her liquored up sleeping husband.  One evening during this stage of their life, Ken was driving to a liquor store and it suddenly felt as if God were in the car.  He said three things:
I love you.
I want to help you.
Why don't you ask Me to help you? (Often God will not help people because they do not ask for help.)
A few days later Ken got saved and asked his wife to forgive him.

God's security system for a functional family
Men are more logic oriented and want the facts. Women are more detail oriented and will see things their husbands do not see. So, working together, husbands and wives will know much more about how to do life. The differences between husbands and wives should create unity.
Ken Brount believes that their is no such thing as a hopeless marriage or family life. We can all have a functional family.
Here's the secret: When we learn how to act on the Word of God in our families, we are setting up a security system for our families.
This is explained more fully in the video below.
Devil proof your family
Unless the Lord builds the house, the builders labor in vain. Unless the Lord watches over the city, the guards stand watch in vain.  Psalm 127:1
Believe in the Lord Jesus, and you will be saved — you and your household.   Acts 16:31
The first thing you do to devil proof your family is not giving him permission to harass them. When you don't do what the Bible says, you are giving the devil permission to harass your family.
Here's the story of the functional family:
Love God
Impart that to your children
Then the blessing of God will come over your family.
This is explained more fully in the video below.
Watch the entire interview between Sid Roth and Ken & Trudi Blount.