Reaching our destiny via the courts of heaven
There are books in heaven revealing destinies — destinies of people all the way to destinies of nations. Often it requires activity in the courts of heaven for a destiny to be fulfilled. We have to step into heaven to deal with all sorts of legal issues. These are the legal issues the enemy is using to prevent us from reaching our destiny.
Learn more about the courts of heaven in the video below.
Satan wants to take away our destiny
Psalms 139:16 talks about a time before we were born.  It says that our destiny was written in heaven.  But the devil is trying to detour us away from that destiny.
For example, think of the story in Luke 22:31 where Jesus is speaking to Simon Peter.  Jesus says that Satan has desired to have him.  "Desired" here means that Satan has demanded that Peter be put on trial.  Satan is saying that Peter is disqualified from his destiny because of things he has done.  But Christ is saying that He has gone to court for Peter and Peter will get what was destined for him.
This is explained more fully by Robert Henderson in the video below.
The greatest legal transaction in history
The greatest legal transaction in history took place when Jesus died on the cross.  When Jesus said, "It is finished", that meant that every legal mandate was now met.  After Jesus died, all people were given the legal rights we see in Isaiah 53.  Jesus took our sickness, our pains, our sins and our iniquities.  Watch the video below.
We can now have the legal right to be free of sickness, pains, sins and iniquities.  Learn how to be free of these problems.  Absorb the rest of this blog post.
Your adversary the devil
1 Peter 5:8 says, "Your adversary the devil goes about like a roaring lion seeking whom he could devour."  "Adversary" is from the Greek word "antidikos".  It means "one who brings a lawsuit".  The reason some important prayers are not answered can be because the devil has a legal case against us.
Think of the parable of the unjust judge.  The widow did not yell and scream at the judge.  She asked the judge for a verdict that would render her adversary unable to legally operate against her.
This concept is discussed in the video below.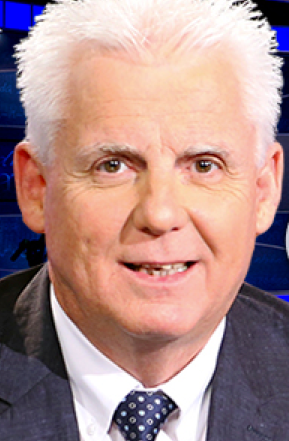 Watch the complete interview between Sid Roth and Robert Henderson.
More teaching on the courts of heaven
Session 1
Session 2
Session 3
Session 4
Session 5
The testimony of Jesus is the spirit of prophecy
The passage in the heading above is from Revelation 19:10.  If you can explain what that means and how it fits into the teaching about the courts of heaven, you have a better understanding of the concept than most people.  If you cannot explain it, please listen to session 2 above.